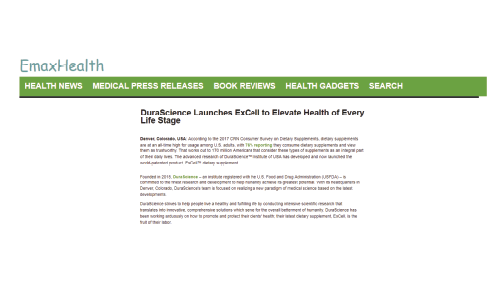 DuraScience Launches ExCell to Elevate Health of Every Life Stage
DuraScience – a leading institute registered with the United States FDA has recently launched ExCell – for uplifting the health conditions of individuals at different life stages.
Denver, Colorado, USA: According to the 2017 CRN Consumer Survey on Dietary Supplements, dietary supplements are at an all-time high for usage among U.S. adults, with 76% reporting they consume dietary supplements and view them as trustworthy. That works out to 170 million Americans that consider these types of supplements as an integral part of their daily lives. The advanced research of DuraScience™ Institute of USA has developed and now launched the world-patented product, ExCell™ dietary supplement.